The undergraduate Polytech FLOW Summer School program is dedicated to the study of Grand Industrial Challenges in France.

With renewed optimism, and confident that the pandemic will abate in the near future, we are forging ahead and planning to maintain FLOW as an in-person program in Montpellier.
EXTENDED DEADLINE March 6th, 2022
Please note that there are no Pre-registration Fees, and registered students will be able to cancel their participation at no charge in case of health restrictions.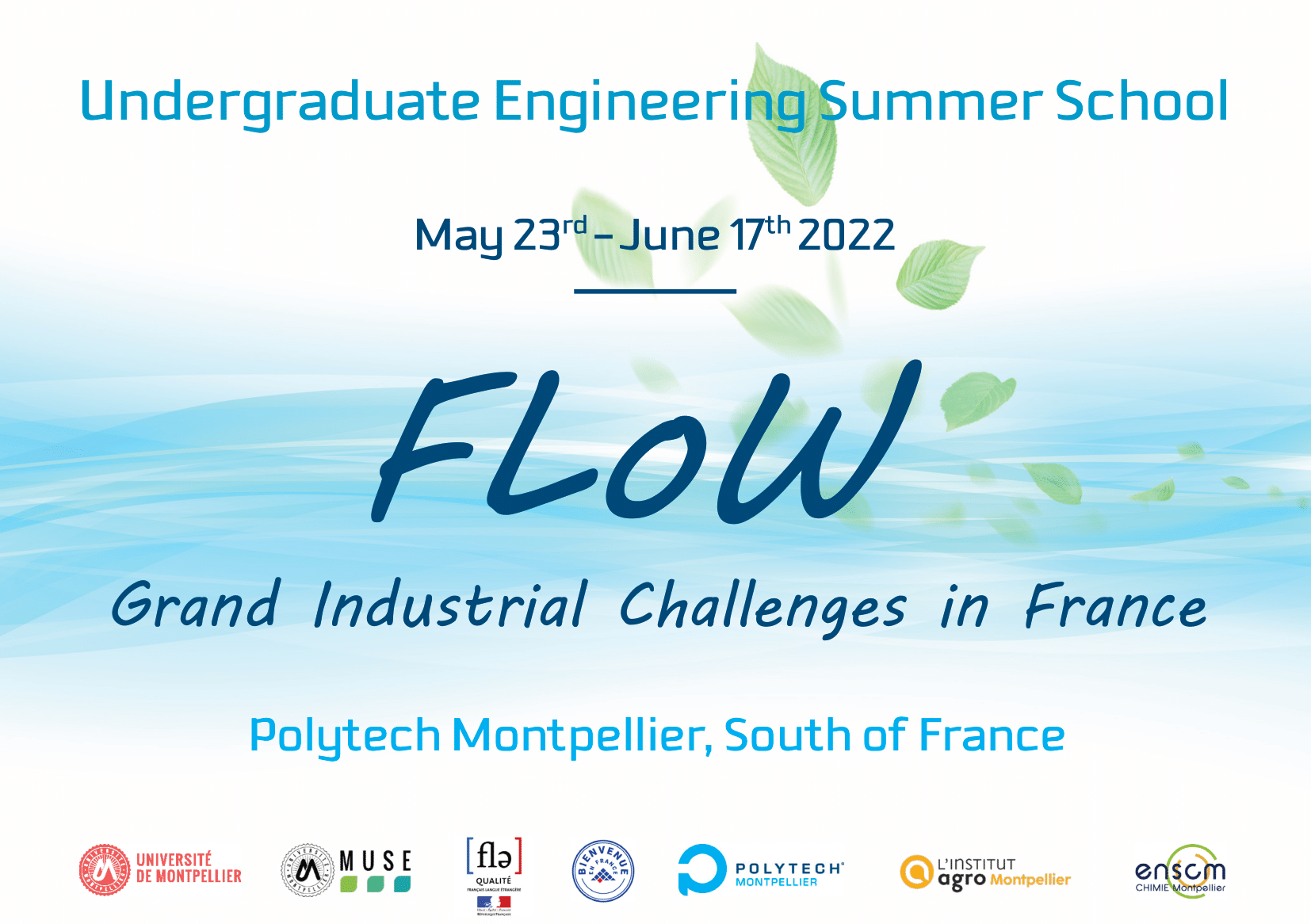 FEAT:

Food,

winE,

wATer :

These courses will include food engineering, wine technology as well as science and technology of water.

SEM: Sustainable Energy and Materials : These courses will cover nuclear energy and renewable energy, as well as the science and technology of the materials involved in the production and storage of those energies.
DIP: Data and Information Processing - These courses will focus on the transformation of

measurements

from our environment to signal and then to data
Program Dates
---
Polytech FLOW 2022 will gather international students for a 4-week Summer School program from May 23rd to June 17th, 2022.
Courses / Credits
---
All program activities will take place in Montpellier.

Students will receive 64h of taught-in-english scientific and technological courses (lectures and practical), as well as 12 hours of cross-disciplinary project on sustainability and 24 hours of French courses and sociocultural activities.
Tuition and fees
---
Regular fees: 3200€


Students from partner universities: 1600€


Including:
Accommodation and meals (family home)

Transfers and local transportation pass

Scientific lectures and activities (64h, 7 ECTS*)

Cross-disciplinary project on sustainability (12h, 1 ECTS)

French courses and virtual sociocultural activities (24h, 2 ECTS)
* 2 European Credits (ECTS), corresponding to 1 US credit.
ENROLLMENT:
---
Suscribe here. Until March 6th, 2022.

VIDEOS:
---
Vidéo "FLOW - Nanomaterials" (YouTube - 2'05'')
Vidéo "FLOW - Food science" (YouTube - 1'47'')
Vidéo "FLOW - Big Data Management" (YouTube - 1'49'')
Vidéo "FLOW - Internet of Things" (YouTube - 2'19'')
Vidéo "FLOW - Water Science" (YouTube - 2'15'')
Vidéo "FLOW - Solar Energy" (YouTube - 2'09'')