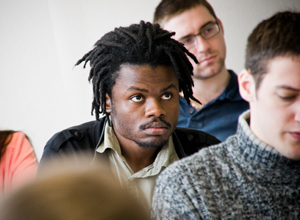 © Groupe Archimède
Camille Boulicault / Campus Communication
You can become an exchange student if your home institution has a student-exchange agreement signed with us for study abroad programmes or placements within our university / school.
They can be specific bilateral agreements, Erasmus agreements or inter-country exchange programmes such as BCI between France and Quebec.
There are 2 possibilities:
1. Your university already has a student-exchange programme with our institution.
Contact your home Institution International Relations Office for more information about the programmes available. They can tell you about the type and level of the exchange, the selection process, the application procedures, the possible grants, dates etc. Your university is responsible for the selection procedure - we just need the official nomination of selected students from our partners.
2. Your university does not have a student-exchange programme with us.
First explore our school documentation and website so as to identify the course that best suits your academic needs or background. Then contact your International Relations Office and ask them to check if they think it is compatible. We would then be happy to hear from them about the possibility of setting up cooperation with your home university.
Important information
Although an exchange student does NOT get a qualification from POLYTECH Montpellier, all academic results are fully recognised by both institutions. An agreed number of credits is established before arrival, and on completion, the results are sent to the student's home university via a system of credit transfer. For Europe, it is the European Credit Transfer System (ECTS) – for other programmes the required credits are defined by the specific agreement.
The exchange period at POLYTECH Montpellier is a minimum of 2 months and a maximum of 12 months.
The advantage of the exchange system is that you do not have to pay tuition fees at our institution – you just pay them to your home institution.
Exchange students have to respect the same rules as any other Polytech Montpellier student, and are expected to attend all courses and sit all exams they are registered for, in order to validate the credits they need to pass.
POLYTECH Montpellier is committed to innovative and interactive new learning methods, and has recently equipped all 3rd year students with an iPad. As an exchange student with us you are also entitled to the loan of an iPad for the duration of your study time with us.