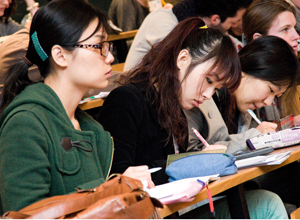 © Groupe Archimède
Camille Boulicault / Campus Communication
You are considered an International student if you do not have French nationality, and are not applying to study with us under an Exchange agreement.
If you think you could be eligible for Exchange student status, please go to the "Exchange students" section.
Most of our taught courses are in French, you have 3 basic options :
1. Your French is at B2 level
(according to the Common European Framework of Reference for Languages)
So you can apply for a place at our school via the Polytech Group online application procedure. Entry is available at 3 levels:
After your baccalaureate
After 3 years of study to get a place in the 3rd year
After 4 years of study to get a place in the 4th year.
Please consult the relevant documentation for International Students provided by the Polytech Group and visit this site.
2. You are a non-French speaker
(but would like to come and study in France via our Polytech France Programme)
One year of intensive French language courses and training of study methology
Two years in the engineering cycle in a school in the Polytech Group
Available from BSc level or equivalent
Please go to the « Polytech France » pages for further information.
3. You would like to carry out a research placement with one of our professors
This option is available to students who speak French or English, and would like to spend a few months working with one of our many professors in their laboratory. This type of placement is available both on University Campus, and in one of the many associated research laboratories that are well established and in close proximity to the University. If you are a coming from a European university for 3 months minimum, and the research is applied to industry, you may be eligible for the Erasmus Placement grant from your home institution.
We invite you to search for the relevant field that you are interested in, and send us CV and cover letter detailing your request. We can then forward this to the appropriate person. If agreement is then reached, we would be happy to assist you in preparing your arrival.